I am available for a range of appointments that complement my full-time work as a Deputy Vice-Chancellor and a Professor of Learning Enhancement and my part-time work on boards, in consultancy and in coaching and mentoring others.
Director/Board Member
An experienced non-Executive Director in the public, private and not-for-profit sectors, I am available for board appointments.
Leadership
An award-winning leader and having worked at Senior Executive level for a number of years, I can provide leadership services, consulting, coaching and advice across a range of leadership levels and contexts. I provide a range of consulting and advising services to Universities, other Higher Education providers, professional associations and corporate clients related to:
Executive leadership
Women in leadership
Strategy development and implementation
Tertiary regulatory compliance
University learning and teaching enhancement
Online education
University student administration
Library services
Student retention and success.
Speaker
I have given over 220 public addresses, including 70 keynote/headline speeches in 9 countries – Australia, New Zealand, Hong Kong, Greece, the USA, England, Scotland, Singapore and Malaysia. I specialise in preparing and delivering addresses that are relevant to, inspiring and entertaining for a wide range of audiences. Popular topics include a range of aspects of university and tertiary education, leadership and women in business.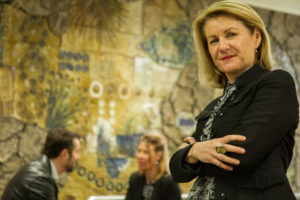 Coaching and Mentoring
A qualified psychologist and highly skilled and experienced coach and mentor, I can provide non-clinical individual and team coaching and mentoring in:
Dealing with common management challenges
Leadership development
Being a woman in leadership
Applying for awards
Public speaking
Grant writing
Resilience
Mindfulness and work-life balance, among other areas.
For academic clients, I specialise in assisting colleagues with:
Conference presentations
Research grant writing
Writing academic papers and
Building a research record.
Research
Having won over $5.5 million in grants, including from the Australian Research Council, the Office for Learning and Teaching and the National Priorities Pool, and other large project funds from state and federal government, I specialise in research and project related services including:
grant writing
project design
project management
report writing and
mentoring ECRs and MCRs.
With significant experience with Higher Degree by Research students, I am available to supervise higher degree students across most areas of education and some areas of business and psychology and to examine Honours, Masters, Doctoral and PhD theses in these areas.
Writing
An award-winning writer with over 300 publications including refereed academic outputs, commissioned reports and newspaper articles, I can produce high quality:
papers
reports
manuals
proposals and
articles
on time and on budget. I also provide a professional editing and proofreading service for academics, students and corporate clients. I have written for numerous publications including the following:
Please contact me at: mttdevlin@gmail.com