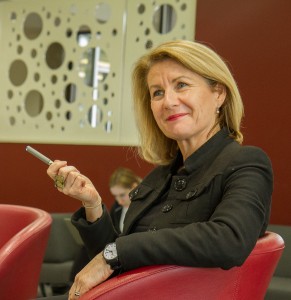 Professor Marcia Devlin, PhD, GAICD is an award-winning leader, senior executive, company director, board member, international consultant, coach, researcher, columnist, author, writer and speaker.
She has worked for more than 25 years nationally and internationally to improve the quality of learning and teaching in universities, to enhance inclusiveness and diversity in and around higher education and to strengthen senior leadership in education and related areas.
Nationally renowned for her work, she is a member of the Tertiary Education Quality and Standards Agency (TEQSA) Register of Experts; a member of 5 Advisory/Editorial Boards, the Academic Board of William Angliss Institute, and numerous project reference groups; a Board Member at the Australian Overseas Foundation; a member of the Education and Training Advisory Board of Open Colleges and has been appointed a Fellow of the Institute of Managers and Leaders.
Marcia is also internationally acclaimed for her work. She has given over 200 public talks including 70 keynote speeches in 9 countries. Her most recent international address was at Stanford University on digital education. She has been elected a Lifetime Fellow of the UK-based Society for Research into Higher Education; appointed an Accreditation Specialist with the Hong Kong Council for Accreditation of Academic and Vocational Qualifications and appointed to the inaugural International Panel of National Forum for the Enhancement of Teaching and Learning in Ireland.
In 2016 she was named the Leader/Manager of the Year in Victoria by the Australian Institute of Management (now the Institute of Managers and Leaders Australia and New Zealand) and was the national winner of the Women's Agenda Leadership Excellence Awards in the Government/Public Sector category. The same year, she was named a state finalist in the Telstra Business Women's Awards.
She has won almost $6 million in external competitive research, project and other funds, currently holds a Commonwealth grant as project leaders and has over 320 publications. Well known for her writing and media work across newspapers, TV and radio and frequently cited, she a Google Scholar h-index of 26.
A Graduate of the Australian Institute of Company Directors, with a PhD (University of Melbourne), a Masters in Education (Macquarie), a Graduate Diploma in Applied Psychology (Swinburne), a Diploma in Education (La Trobe) and a Bachelor of Arts in Psychology (Australian National University), she is eminently qualified.
Having worked in leadership roles at Victoria University, RMIT University, Federation University Australia, Open Universities Australia, The University of Melbourne and Deakin University, and been appointed to numerous honorary and professorial roles in Australia and overseas, as well as to several boards, she is highly experienced. You can view her Linked In profile here.
You can follow her on Twitter: @marciadevlin
You can contact her by email: mttdevlin@gmail.com